Looking ahead to our Club meetings:
June 21: Club Auction and members' show-and-tell
July 19: Members' Auction
Our meetings are also accessible by Zoom. Write to salemstampsociety@gmail.com several days before the meeting for the Zoom invitation.
PIPEX was a very successful show, in large part because of the great work done by Salem Stamp Society members Steve and Caroline Brandt, Lisa Janz, Lucien Klein, Phil Kumler, Mark Loomis, Alan Maul, Tony Port, Bob Reynolds, George Struble, who are all members of the PIPEX Committee, and several other members who volunteered during the show.
The success of the Salem Stamp Society included winning the trophy for the best club exhibit. Our club gets to keep this handsome silver trophy and display it until PIPEX 2024, when it will be won by another club. Salem Stamp Society will be eligible to win again in 2026. See more about the trophy in the June issue of the club newsletter.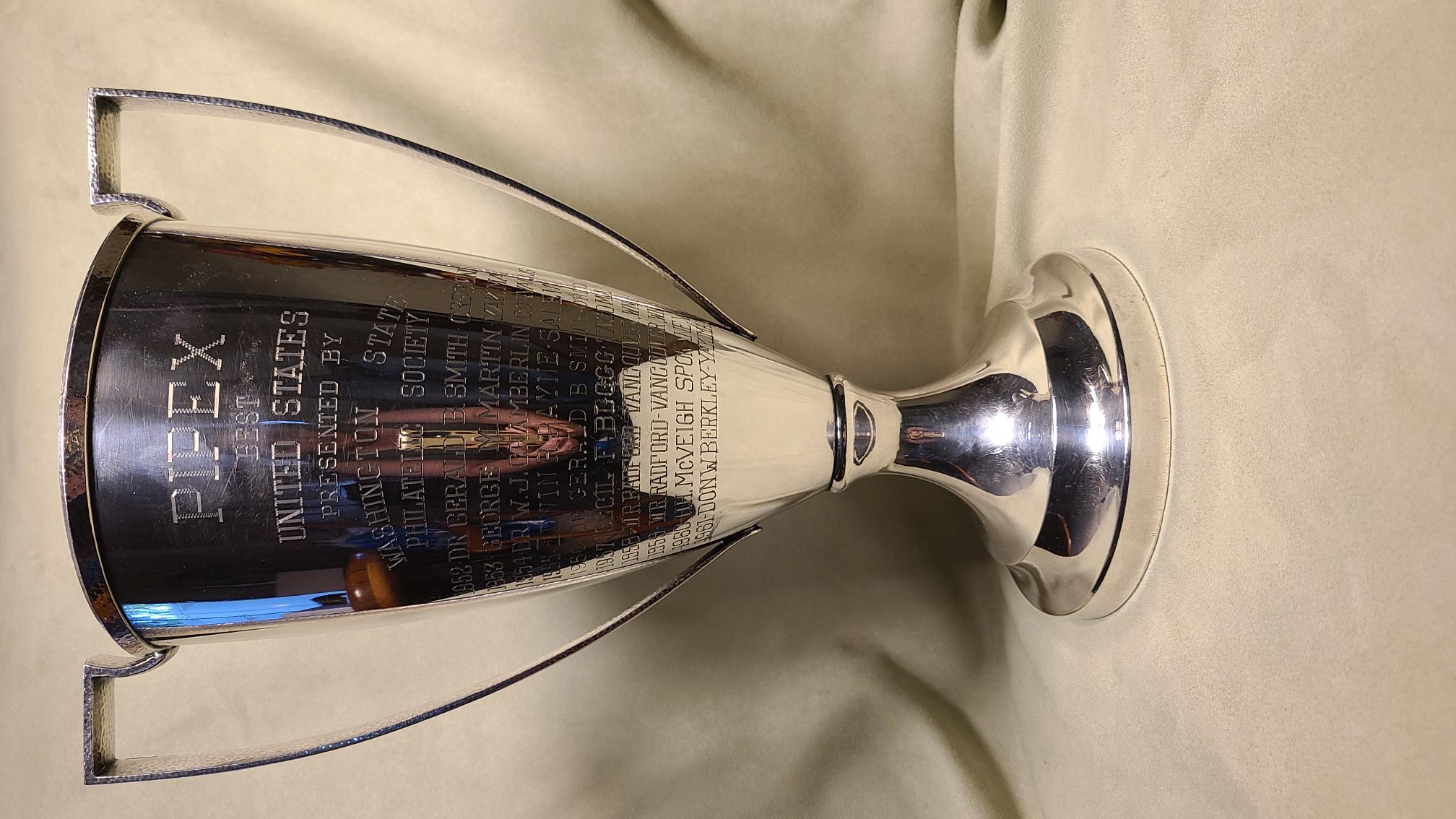 Tell Mike Braet if you are willing to provide a "Frame of the Month" at one of our meetings.
Salem Stamp Society has a new way to contact the leaders of the club: a club email address salemstampsociety@gmail.com. That mailbox will be checked frequently, and emails received will be forwarded to an appropriate person.
- - - - - - - - - - - - - - - - - - - - - - - - - - - - - - - - - - - - - - - - - - - - -

The purpose of the Salem Stamp Society shall be
to promote fellowship of all who are interested in the study of philately,
to facilitate the exchange of knowledge of the various branches of the hobby among its members,
to assist members in the acquisition and disposal of stamps and other philatelic materials,
to encourage participation in exhibiting at philatelic functions,
and to disseminate information relating to philately among its members and the general public.

See the
Library page
for a listing of the contents of the SSS Library. It is searchable in your browser. Issues of the United States Specialist are listed individually, each with its table of contents. You can click on the table of contents image and see it at full page height. Knowing which issue contains an article you want to read, you can request that issue from the Library.
Weather Closures:
In case of inclement weather, SSS will follow the lead of the Salem-Keizer Public Schools. Among other places to look for their decisions: http://flashalert.net/news.html?id=146